A Space of Specialized Agents
---
The Niche Specialization Experiment (Section 4)
Recall from the paper that in this experiment, we enforce that agents can attack only
one
of chickens or towers. Agents can initially choose either one, but once they make a choice, they are locked in. Lastly, agents do not
see
which object they are locked into. This means that a "single" policy paradigm would result in either a "jack-of-all-trades" agent, or an agent that only attacks one particular unit type. But by instead learning a policy space, we can find individually specialized policies that, in aggregate, harness all resources.
Visualization
Agents that locked into towers are boxed in
green
, and agents that are locked into chickens are boxed in
red
. If a chicken-specialized agent attacks a tower, or vice versa, we flash the agent in
purple
, and increment the counter of
blunders
. A high number of blunders indicates that the general agent population does not specialize very well.
We are looking at this for a qualitative demonstration of behavior, and are not concerned too much with the numbers. However, it is clear to see that ADAP keeps the number of blunders relatively low. Additionally, in ADAP, there is a small subset of agents that blunder, indicating it has learned a multi-modal policy space with specialized agents. This means that we can
optimize out
these erroneous agents. In Vanilla and DIAYN*, all agents tend to blunder with equal chance, and cannot be optimized out.
ADAP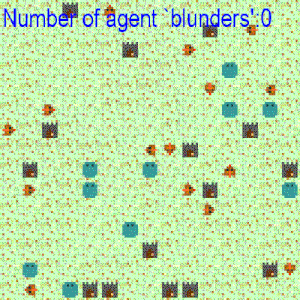 Vanilla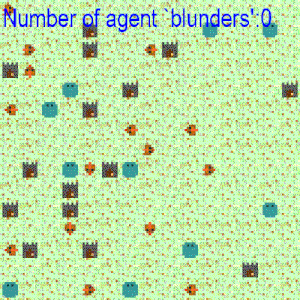 DIAYN*